5 Reasons To Get Bluebird Card from American Express
The Bluebird Card, by American Express, is one the most popular prepaid debit cards around – and there are good reasons why. In this post, we are going to provide the top 5 reasons to get Bluebird card from American Express.
This Post Will Cover:
What is the Bluebird Card?
Top 5 Reasons to Get Bluebird Card
What is the Bluebird Card?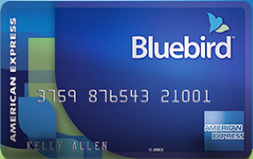 The Bluebird card is a prepaid debit card issued by American Express in partnership with Walmart. It is advertised as an alternative to debit and checking accounts.
In developing the Bluebird card, Walmart and American Express saw an opportunity to serve consumers who currently may be poorly served by traditional banking products – who are overburdened with fees and limited services.
According to a study, consumers now pay an average of $259 per year for a basic checking account and that cost is rising due to higher minimum balance requirements and a growing list of fees being added to these services.
The Bluebird card helps these consumers to easily and safely move, manage, and spend their money. It comes with advanced capabilities such as deposits by smartphone and mobile bill pay, fee transparency, and no minimum balance, monthly, annual or overdraft fees.
Top 5 Reasons to Get Bluebird Card
Signing Up Is Easy
There are 3 ways you can sign up for the Bluebird card.
The first option is to visit a Walmart Store and for $5, you can pick up a Bluebird Card sign up Kit that looks like the image below. Included in that Kit is a Temporary card, which you can load up with funds at any Walmart checkout counter – up to $500.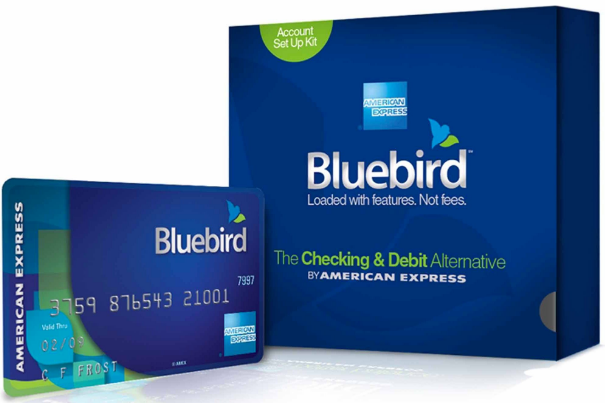 Once you load the temporary card with money, you can start to use the card right away to make purchases. You will need to sign up for a permanent card once the initial money on your temporary card runs out.
The second option to getting a Bluebird card is to visit Bluebird.com and sign up for a personalized, permanent card. With the permanent card, you can access all the benefits that come with the Bluebird card, including mobile check deposit, bill pay, and direct deposit.
The third option is to open an account via the Bluebird Mobile app. You can download it from the Google Play Store if you have Andriod phone or from the App Store if you have an iPhone.
Online Bill Pay
One of the great features of the Bluebird card is that it allows you to be able to pay bills online, just like you would with a traditional bank debit card account.
With the Bluebird bill pay service, you can either choose from a list of preloaded merchants and payees or add a payee of your own. Once you submit your bill for payment, Bluebird will issue the payee a check, which should be received within 5-7 business days.
Here is what the Bluebird pay online page looks like: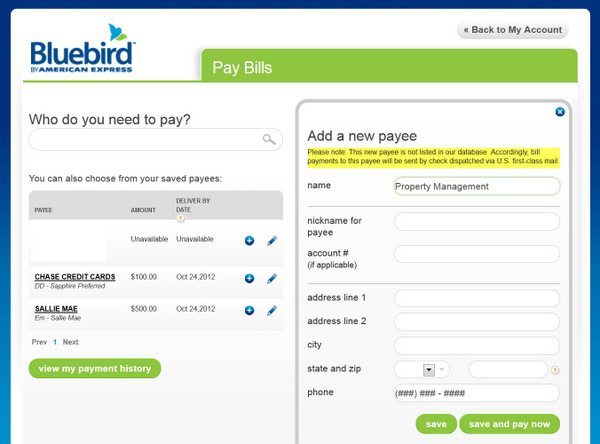 Check Writing Capability
As we mentioned earlier, American Express is advertising the Bluebird card as an alternative to a traditional checking account. One of the features that come with the Bluebird card that other prepaid cards don't have is the ability to write checks.
You can order a checkbook with your Bluebird card. To get 50 checks, you will pay $19.94 + $5.94 shipping while 100 checks cost $26.94 + $6.94 shipping. For what check looks like, see the image below: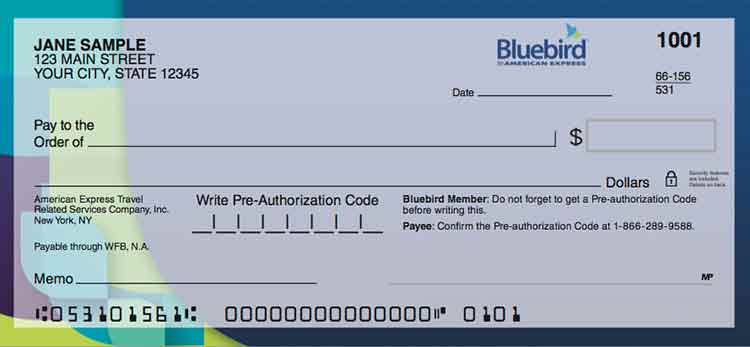 There is no Credit Check
One of the reasons American Express and Walmart collaborated on the Bluebird Card is to offer a low-cost solution to those who cannot get access to traditional checking or savings account through a bank or credit union because of problems with their credit.
You don't need to submit to a credit check to sign up for the Bluebird Card. As a result, you are able to get almost all the major benefits of a traditional debit card account without the need to worry about whether you are going to be denied because of your credit history.
Cash Withdrawal at ATM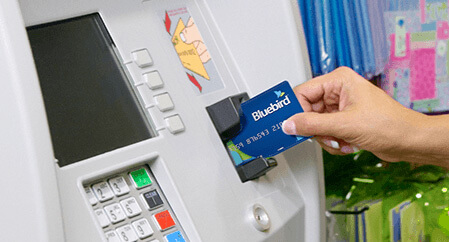 You can withdraw cash at an ATM with your Bluebird card. Withdrawals can be made at any ATM that accepts American Express Cards, including over 24,000 MoneyPass ATM network in the US. There is a daily maximum of $500 or $2,000 per month.
The video below provides another insight into the features that come with the Bluebird card.
If this post was helpful to you, please share it. If you have any questions about the Bluebird card, ask us in the comments section below.
Comments
comments