Where to Buy a Bluebird card
If you are interested in getting the American Express Bluebird card and would like to know how to purchase a card, we can help. There are three different ways by which you can acquire a Bluebird card. In this post, we will review the three ways you can buy a Bluebird card, including how you can get a temporary card you can use right away.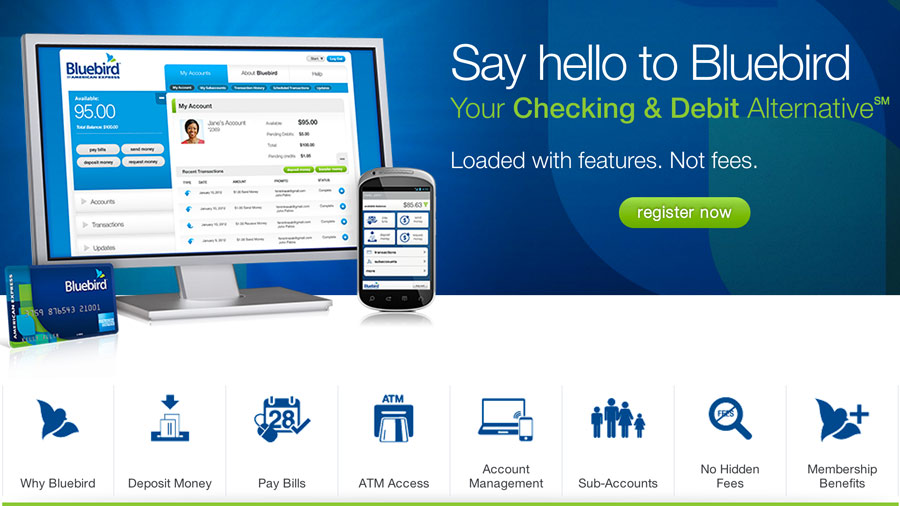 This Post Will Cover:
What is Bluebird Card?
Who Can Get a Bluebird Card?
Where to Buy a Bluebird card
How to Load Bluebird Card
The Bluebird card, offered by American Express in collaboration with Walmart, is a prepaid debit card that is advertised as an alternative to a traditional bank checking account.
One of the biggest benefits of the Bluebird card is that there are very minimum fees.
Even if you have a bank account, Bluebird has many features that make it an attractive card for managing your money, including:
No Activation, Monthly/Annual, Dormancy, Foreign Exchange or Replacement Card fee.
Free Early Direct Deposit — get your paycheck up to 2 days before payday.
Free ATM Withdrawals at over 24,000 MoneyPass ATM locations nationwide.
Free Cash Reloads at Walmart
Free Cash Reloads at Walmart
Free Online Bill Pay
Free Mobile App with Account Management Tools
Free Family Accounts
Who Can Get a Bluebird Card?
To get a Bluebird card, you must meet the following criteria:
Have a valid Social Security Number
Be at least 18 years old
Reside in the United States
Once you get a Bluebird card, you can set up an account for a family member under your account. If you have a family member with a Bluebird card, they can also set up a family account for you under their account.
To have a Bluebird Family Account, you must:
Be at least 13 years old
Reside in the United States
There are no minimum balance requirements and no credit check to get a Bluebird card.
Where to Buy a Bluebird card
Here are the three ways you can get a Bluebird card.
Option 1
The first option is to get a Bluebird Account Set Up Kit for $5 at a Walmart store near you. The kit contains a temporary Bluebird card like the one in the image below.
After you purchase the kit, you can load the card with up to $500. The card is then available to be used right away to make purchases, including online and over the phone.
Once the initial amount you added to the card is spent, you cannot add any more funds to this temporary card. You will have to register the card and get a permanent card on Bluebird.com. See our post on how to register your Bluebird card and get a permanent one.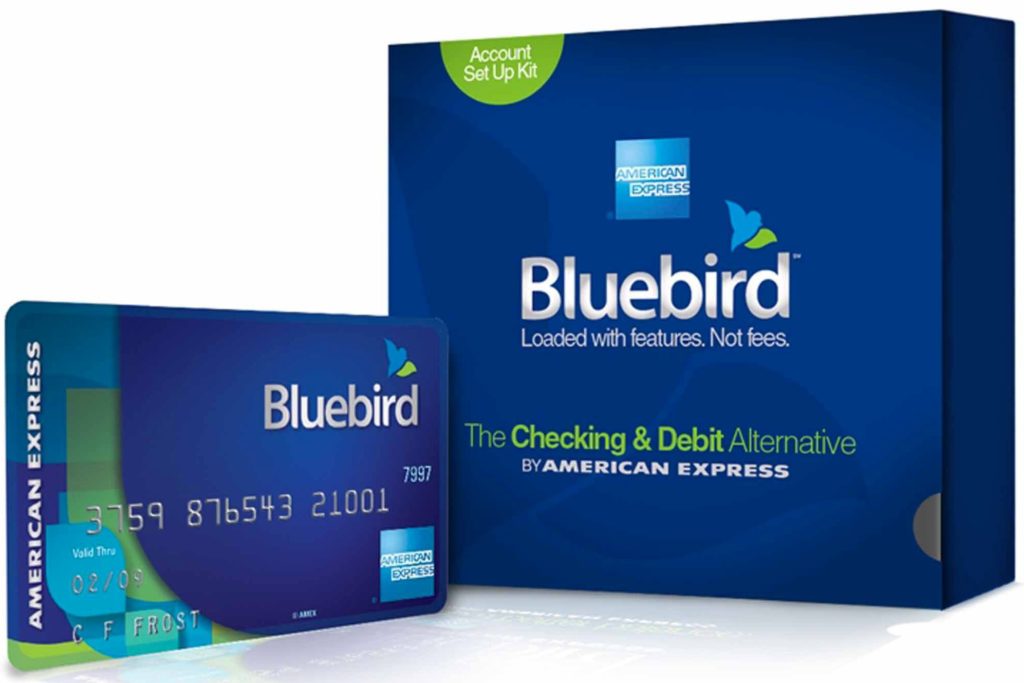 The video below provides a good summary of how the temporary card works and how to pick up one at Walmart and load it with funds to be used right away.
Option 2
The second option in getting a Bluebird card is to visit Bluebird.com and sign up for a permanent card. Here is how to do that:
First, visit Bluebird.com. Once there, click on the "Open An Account" button on the top of the page as shown below.
You will be taken to a page to enter your personal information. Complete the requested information and submit the form.
You should receive your Personalized Bluebird Card within 7-10 business days after you complete registration.
Option 3
The third option on how to open a Bluebird Account is to open an account via the Bluebird Mobile app. You can download it from the Google Play Store or the App Store.
Once you download the App, open the app and click on the "Register Now" link as shown below.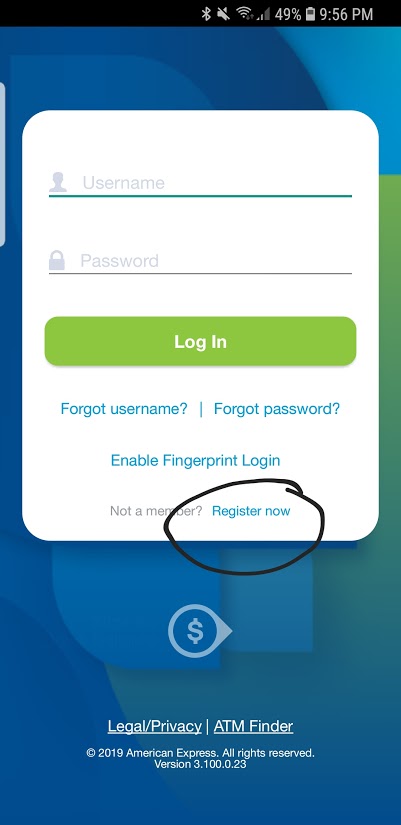 From there, you will be taken to a page where you will be asked whether you have a temporary card or not. Since you don't yet have a Bluebird card, check the "No" button as shown in the image below. You will then be asked to provide your personal information as listed above in Option 2.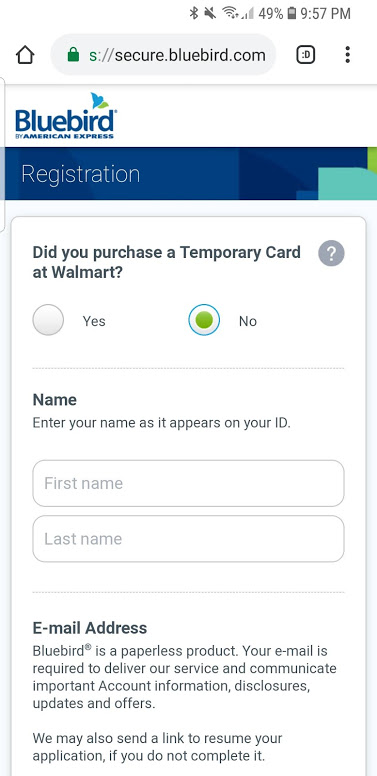 Once you sign up for an account online or via the Bluebird Mobile App, Bluebird will send you a Personalized Bluebird Card to the address you provided.
You must activate it according to the instructions on the Card. If you have not received your Card(s) within 14 days, call American Express Bluebird customer service at 1 (877) 486-5990.
How to Load Bluebird Card
There are five different ways you can load your Bluebird Card. Here they are:
Cash Deposit at Walmart and Participating Retailers
Direct Deposit Your Paycheck or Government Benefits/Payments
Link a Debit Card to Your Bluebird Account
Deposit Checks Directly into Bluebird Account
Send Wire Transfers from your Checking Account
For a detailed post on each of the 5 ways to load your Bluebird card, read our How to Load Bluebird Card here.
If this post about where to buy a Bluebird card was helpful to you, please share it. If you have any questions about Bluebird, you can ask us in the comments section below.
Comments
comments