How to Check Bluebird Balance
If you have an American Express Bluebird card and would like to check the balance, we will walk you through the process.
If you have a temporary card, you can check the balance on the card by following the instructions below. However, once you spend the initial balance you load on the card, you cannot use the card until you get a permanent card. See instructions below on how to signup for a permanent Bluebird card.
This post will cover:
How to Check Bluebird Balance
How to Register Temporary Card
How to Check Bluebird Balance
Here is how to check Bluebird balance. We will cover the balance check process for temporary and permanent cards.
Temporary Bluebird Card Balance
To check the balance on your temporary Bluebird card, you will need your temporary Bluebird card number and the four-digit security code on the front of the card. Click here to be taken to the balance check page.
The page will look like the one below and you will be asked to enter your temporary card number and security code.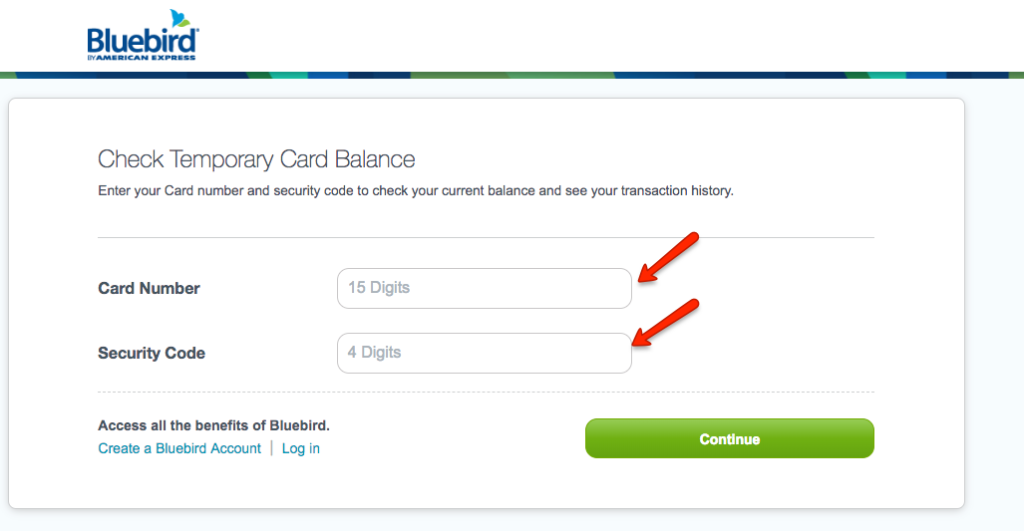 Once you enter the requested information, hit continue and you will be provided the balance on your card.
Permanent Card Balance
To check the balance on your permanent Bluebird card, you can log in to your account online or via phone.
To login to your account online, click here. Once you successfully log in to your account, your card balance will be displayed at the top of the page as shown below.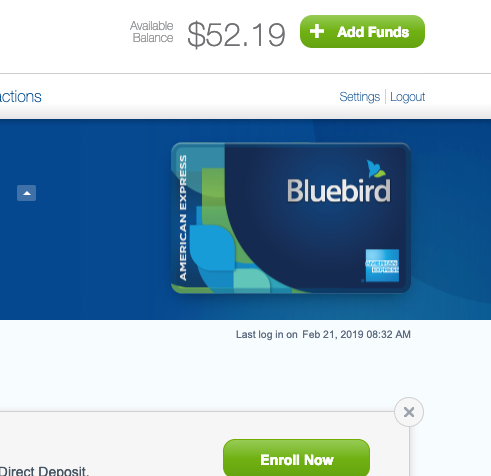 You can also check your Bluebird card balance via phone. You can download the mobile app Bluebird Mobile App from the App Store or Google Play.
Once you download the app, log in, you will see your card balance displayed with the latest transaction history as shown in the image below: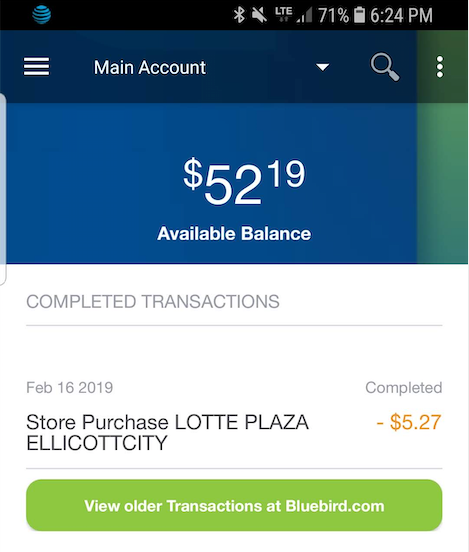 How to Register Temporary Card
If you are looking to register your Bluebird card, it means you purchased a temporary card from Walmart and want to register it and get a permanent card mailed to you.
Here is how to register or activate your temporary card on Bluebird.com
Step 1
First, visit Bluebird.com and click on the "Register Your Card" link at the top. As shown below: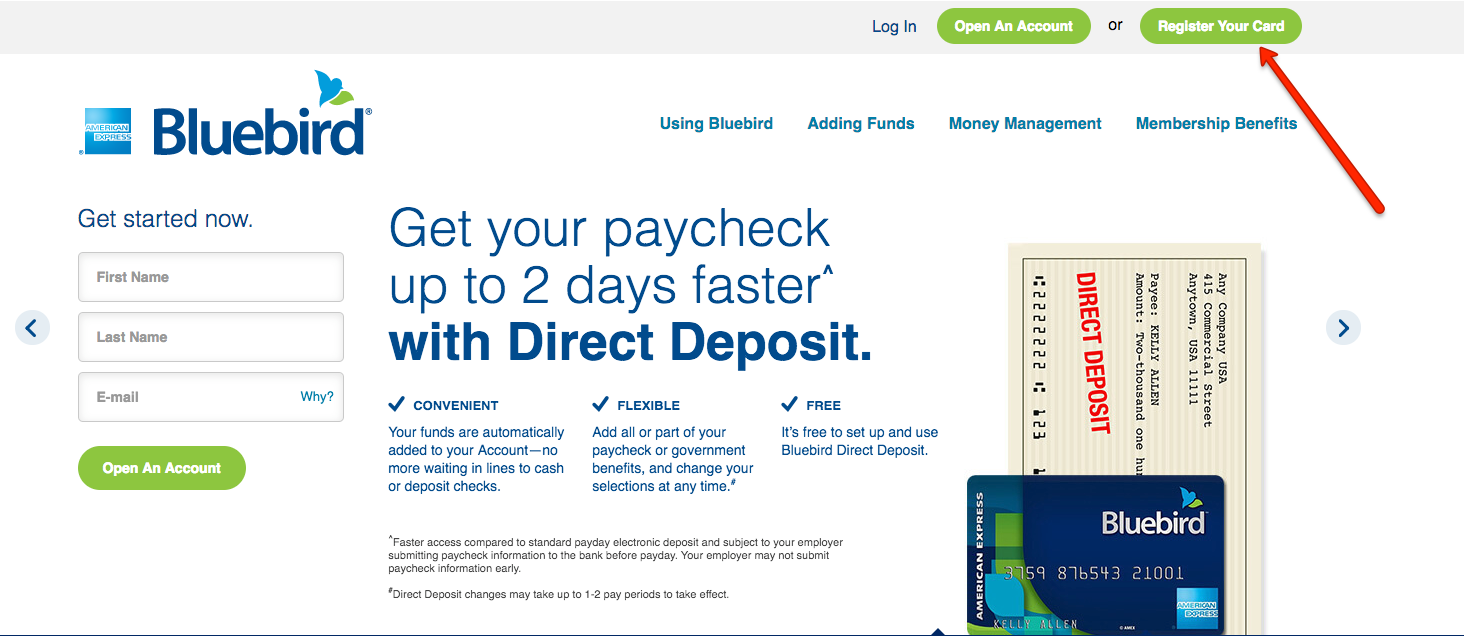 You will be taken to a page where you will be asked if you already have a temporary Bluebird card. Select "Yes" as shown below. Then complete the information requested below:
Temporary Card Number (the 15 digit card number)
Security Code (the four digits in front of your card)
Name
Email Address
Mailing Address
Phone Number
Username & Password
Date of Birth
Social Security Number (This will be used to verify your identity. Bluebird will not check your credit and there is no credit check required to get a card).
Create ATM PIN
Set up Security Question and Answer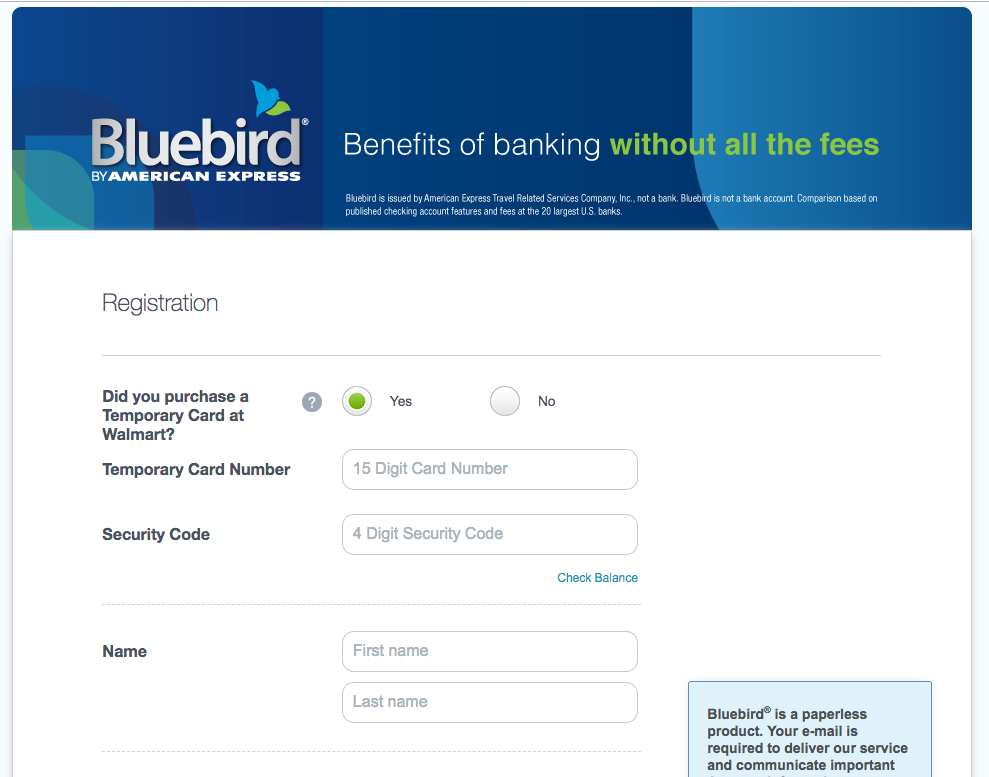 You should receive your Personalized Bluebird Card 7-10 business days after you complete registration. You must activate it according to the instructions on the Card. If you have not received your Card(s) within 14 days, call American Express Bluebird customer service at 1 (877) 486-5990.
If this post about how to check Bluebird balance was helpful to you, please share it. If you have any questions about Bluebird, you can ask us in the comments section below.
Comments
comments