Bluebird Customer Service Issues
(Last Updated On: February 20, 2019)

Since we reviewed the American Express Bluebird Card, we have received tons of emails and comments about problems cardholders are experiencing. In this post, we will talk about the top Bluebird customer service issues and what you can do about them.
This Post Will Cover:
Bluebird Customer Service Issues
How to Reach Live Person at Bluebird
Bluebird Customer Service Issues
Here are the top 5 Bluebird customer service issues we get the most emails and comments about:
Fraudulent Transactions
It is no secret that online fraud is on the increase and it seems prepaid debit cards have become a growing target, including the Bluebird Card. Some cardholders are finding their cards used for fraudulent purchases, sometimes at store or cities far away.
The next step is for the cardholder to dispute the charge. That's when things can get really frustrating. Some cardholders find the Bluebird Dispute Process particularly long.
That is because in most cases, Bluebird does not give the cardholder a temporary credit while they conduct their investigation.
This means that if you are a victim of fraud for a significant amount, you may have to wait a long time to get your money back – sometimes up to a month.
For those who use Bluebird as their main account in managing their money and making purchases, that can be devastating and cause financial hardships.
See our article on how to dispute a charge on Bluebird for more information.
Direct Deposit Confusion
The main complaints here is the direct deposit time.  Bluebird has advertised that you can receive your Direct Deposit faster – up to two days faster as shown by the image below.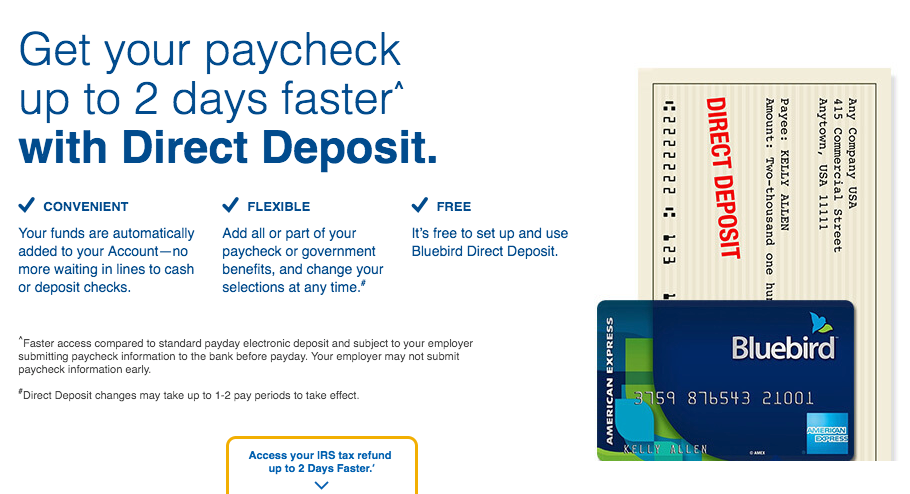 However, there is a caveat, which most people do not read or are not aware when they sign up for Bluebird direct deposit.
Yes, you can get your paycheck two days faster if you use Bluebird Direct Deposit but you have to understand how the process works because it may not apply to all situations.
For you to receive your paycheck faster, your employer must submit payroll information to banks before payday.
Some employers submit their payroll to banks a few days in advance of the payday. If your employer does that, Bluebird is promising to make your pay available to you, up to two days from your payday.
If your employer does not do this and only submits payroll to banks the night before payday, then you will not be able to get your pay faster through Bluebird Direct Deposit.
If you are signing up for Bluebird direct deposit because you want to get your pay faster, then you should find out from your employer how much in advance payroll data is submitted to banks before payday to know if this will work for you.
Some people have also reported issues with their regular direct deposits. Cardholders who are used to getting their direct deposit on a particular day sometimes find that the deposit is not in their account.
When they try to call customer service to understand why their direct deposit is not in their account, the answers they get are not convincing. Bluebird usually blames it on the employer.
Accounts Being Locked
Some customers are complaining that their accounts are being locked by Amex for "Security" reasons. This is either from multiple login attempts or suspicious transactions/use of the card. Either way, it is not a pleasant experience trying to get customer service to unlock the account.
A majority of these cards are locked due to suspected fraud. Whenever American express suspects that an account has been compromised, the card is locked to protect the cardholder.
This is not usually communicated to the cardholder in a timely manner. As a result, some cardholders only find out their card is locked when they attempt to use the card to make a purchase, which can put the cardholder in all sorts of uncomfortable situations.
Check Writing Clarity
While it is true that you can write checks with your Bluebird card, the Bluebird check writing process is different from how you write a check using a traditional bank account.
One of the benefits of having a Bluebird account is knowing that you cannot overdraw the account. This also applies to check writing.
Before you write a check on your Bluebird account, you are required to get pre-authorization. This is a process to make sure you have enough money in your account to cover the check you are about to write.
Once your check is approved, the amount of the check will be deducted from your Bluebird account.
You will then be provided with an 8-digit preauthorization code that you will have to write on the check before giving the check to the payee.
Some cardholders have had their Bluebird checks returned because they wrote the check without getting pre-authorization.
Your Bluebird check will be rejected if you fail to get pre-authorization, even if you have enough money in your Bluebird account to cover the check.
Unresponsive or unhelpful Bluebird Customer Service
The top complaint is that customer service is either unreachable or are not knowledgeable. It seems American Express may have outsourced their customer service for the Bluebird Card.
Worse, the hold time for customer service is long, with some reporting hold times as long as 30 minutes.
If you try to speak to a supervisor, you may be placed on hold for hours and some people have reported their calls dropped after being placed on hold for a long time.
How to Reach Live Person at Bluebird
If you have an issue with your Bluebird card and are having problems reaching a live person, we can help. Follow the instructions below to talk to a human:
Step 1 – Call Bluebird
The first step is to call Bluebird customer service at 877-486-5990. Customer service is available 24 hours a day, 7 days a week. The best time to call is 9:00am in the morning.
Step 2 – Bypass the Auto attendant
When you call the phone number, you will get the auto attendant. When the auto attendant goes through the menu options, you should say "I want to speak to someone."
You may have to say that a few time, and you will be transferred to a human.
If you found our post on Bluebird customer service issues helpful, please share it. If you have any comments or questions about Bluebird card, let us know in the comments section below.
Comments
comments