Bluebird Temporary Card
If you are interested in getting the American Express Bluebird Temporary card, we can help. In this post, we will explain where to get the Bluebird temporary card, how to activate (register) the card online and how to add funds to the card (load the card with money).
This Post will Cover:
What is the Bluebird Card?
Where to Get Bluebird Temporary Card
How to Use Temporary Bluebird Card
How to Activate Bluebird Temporary Card
What is the Bluebird Card?
The Bluebird card is a prepaid debit card by American Express, in collaboration with Walmart. It is advertised as an alternative to a traditional bank checking account.
The Bluebird card has many features that make it an attractive card for those looking for a checking account alternative that comes with low fees.
Features of Bluebird Card
Here are the top features of the Bluebird Card:
No Activation, Monthly/Annual, Dormancy, Foreign Exchange or Replacement Card fee.
Free Early Direct Deposit — get your paycheck up to 2 days before payday.
Free ATM Withdrawals at over 24,000 MoneyPass ATM locations nationwide.
Free Cash Reloads at Walmart
Free Cash Reloads at Walmart
Free Online Bill Pay
Free Mobile App with Account Management Tools
Free Family Accounts
Who Can Get a Bluebird Card?
To get a Bluebird card, you must meet the following criteria:
Have a valid Social Security Number
Be at least 18 years old
Reside in the United States
Where to Get Bluebird Temporary Card
The only place you can buy a Bluebird temporary card is at a Walmart store.
You can pick up a Bluebird Account Set Up Kit for $5 at a Walmart store near you. The kit contains a temporary Bluebird card like the one in the image below.
After you purchase the kit, you can load the card with up to $500. The card is then available to be used right away to make purchases, including online and over the phone.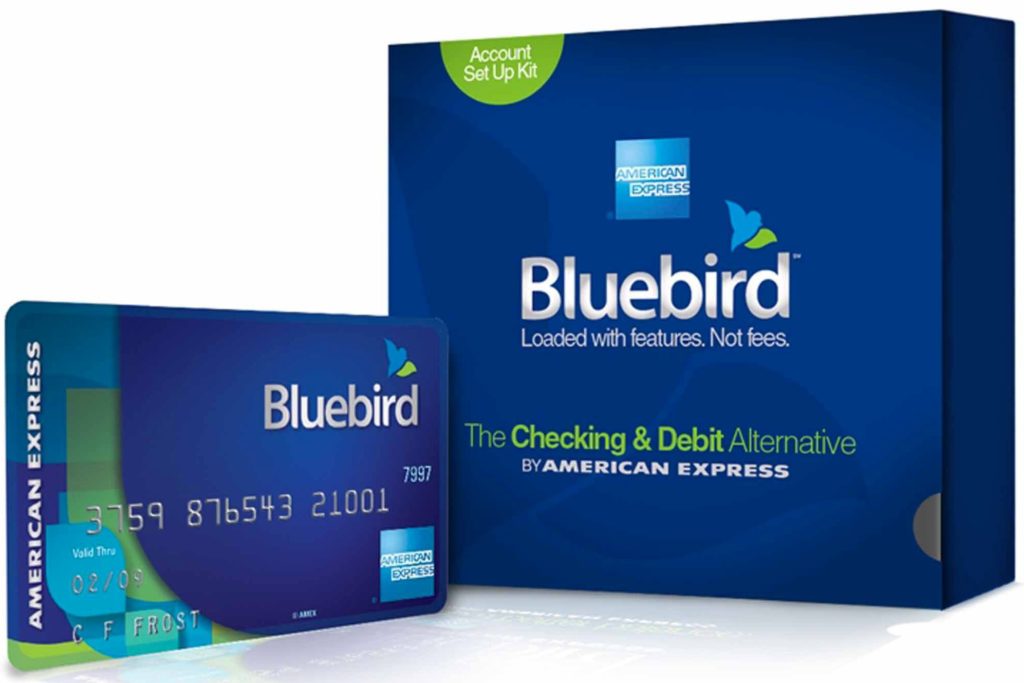 The video below provides a good summary of how the temporary card works and how to pick up one at Walmart and load it with funds to be used right away.
How to Use Temporary Bluebird Card
When you purchase a temporary Bluebird card, you can use it right away after you add the initial money to it at Walmart.
However, when that initial money runs out, you have to get a permanent card by going online or the mobile application and registering your temporary card and requesting a personalized permanent card.
With your permanent, personalized Bluebird card, you gain access to the following additional functions:
FREE Early Direct Deposit
FREE MoneyPass® ATM access
FREE Cash Reloads at Walmart
FREE Online Bill Pay
FREE Mobile App with Account Management Tools
FREE Family Accounts
Use Bluebird2Walmart Money Transfer Powered by Ria
How to activate a Temporary Bluebird Card
As we have mentioned above, you have to activate your temporary Bluebird card and get a permanent, personalized card, in order to get all the benefits that come with Bluebird.
Here is how to activate your temporary Bluebird card
Step 1
First, you need to visit the Bluebird website at Bluebird.com. Once you are there, click on the "Register Your Card" link at the top as shown below.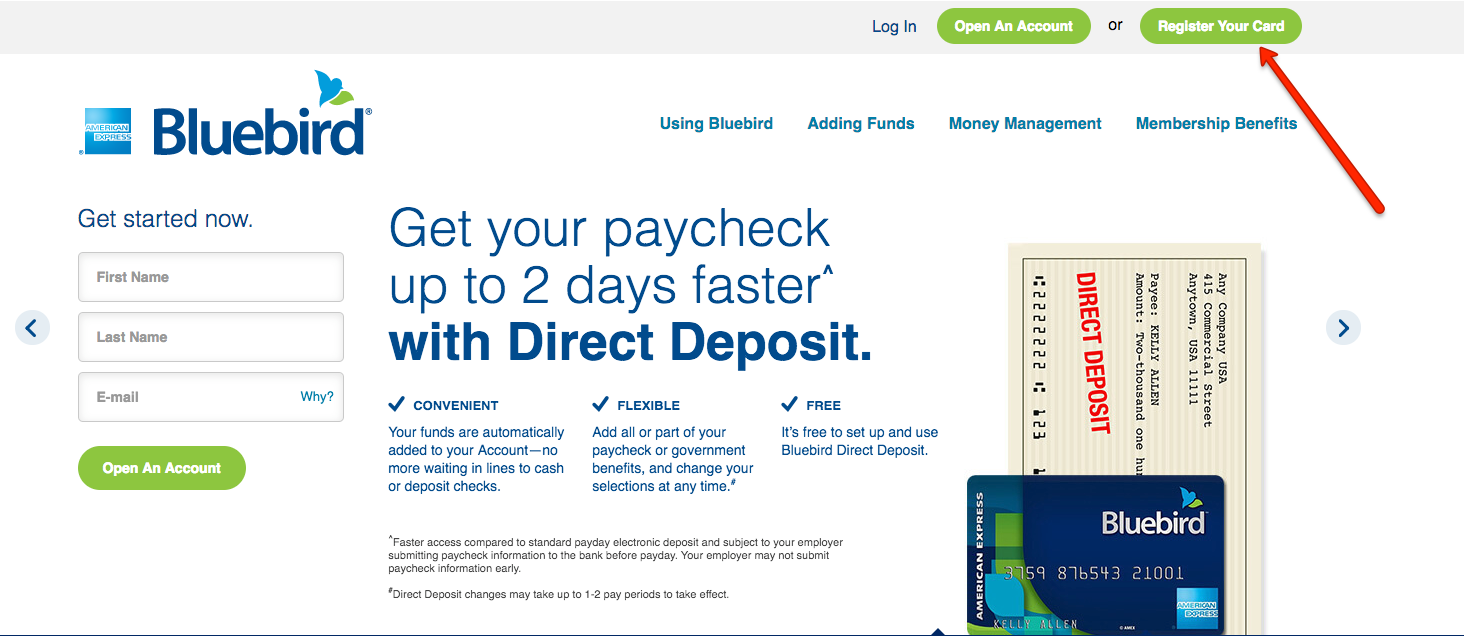 You will be taken to a page where you will be asked if you already have a temporary Bluebird card. Select "Yes" as shown below. Then complete the information requested below:
Temporary Card Number (the 15 digit card number)
Security Code (the four digits in front of your card)
Name
Email Address
Mailing Address
Phone Number
Username & Password
Date of Birth
Social Security Number (This will be used to verify your identity. Bluebird will not check your credit and there is no credit check required to get a card).
Create ATM PIN
Set up Security Question and Answer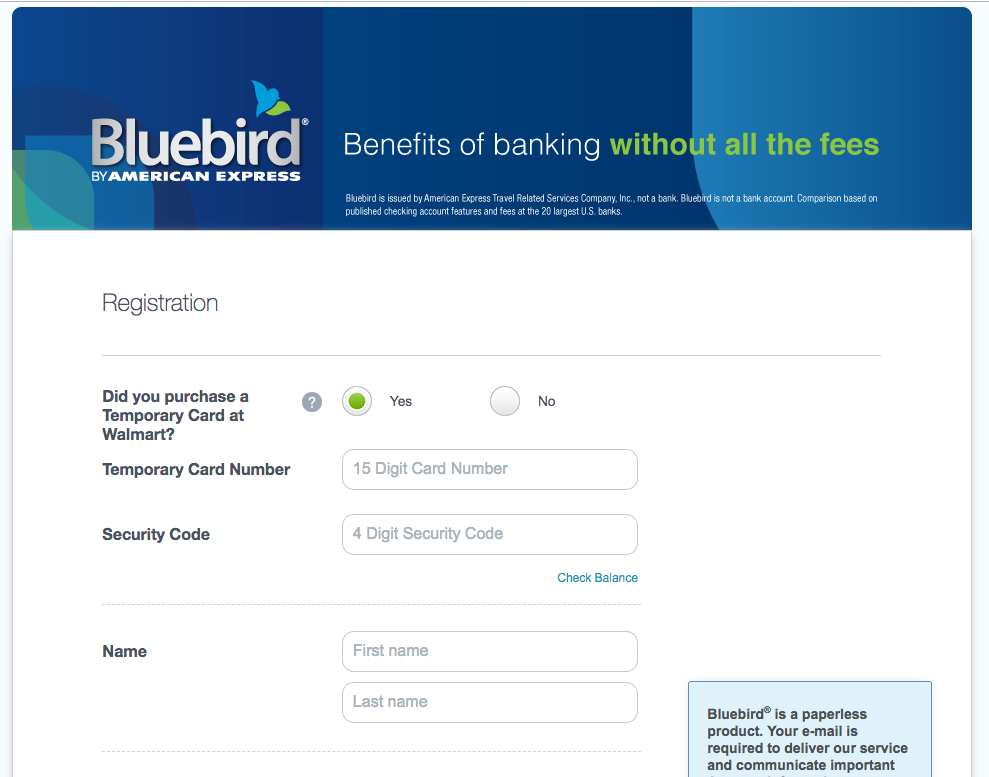 You should receive your Personalized Bluebird Card 7-10 business days.
Once you receive it, follow the instructions on the card to activate it. If you have not received your Card(s) within 14 days, call Bluebird at 1 (877) 486-5990.
If you have any questions about the American Express Bluebird Card, you can ask us in the comments section below.
If you found this post about Bluebird Temporary Card helpful, please help us spread the word by sharing it using the "Share this" button below.
Comments
comments