American Express Bluebird Card Review 2019
(Last Updated on 3/17/19)
Is the America Express Bluebird Prepaid Debit Card worth it? In this post, we explain why we think the Bluebird Card is indeed the best prepaid debit card on the market and a great alternative to a traditional checking account.
American Express has promoted the Bluebird Card as a real alternative to a traditional checking account, offering features to cardholders that are NOT usually associated with a prepaid debit card. Here's the list of the top features: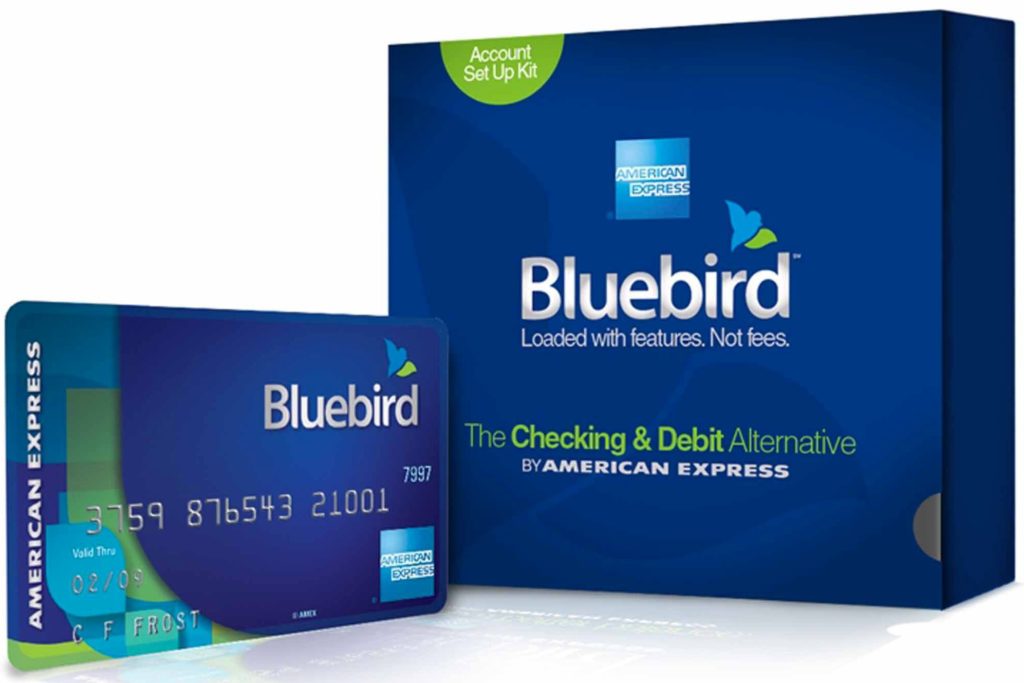 Sign Up for American Express Bluebird is Easy
There are three ways to apply for Bluebird.
You can pick up a setup packet at Walmart for $5 (like the image above). This comes with a temporary Bluebird card. You can load the temporary Bluebird card at a Walmart cashiers register and begin using the card right away to make purchases, including at Walmart.
The other way to sign up for an American Express Bluebird card is to go online to the Bluebird website and sign up for a permanent card.
You can also download the American Express Bluebird app and sign up for a permanent card right on your Android or Apple device.
Note that once you use the initial funds you deposited on your Bluebird card, you will have to activate the temporary Bluebird card online and request a permanent card. The video below explains the process in detail.
No Monthly Fee
This is a very big deal. The Bluebird Card has been in existence for a few years now and American Express has kept to their promise. There is no monthly or yearly fees. The card comes with a lot of features that are free.
Here is a complete list of all the features that come with bluebird for FREE:
Account Activation.
Direct deposit.
Adding funds from a debit card.
Adding cash at Wal-Mart.
Using the Mobile Check Capture and opting for "Money in 10 days."
Withdrawing cash at MoneyPass ATMs.
Online transactions and merchant transactions.
Writing Bluebird Checks.
Sending money between Bluebird accounts.
Transferring money to a "Set Aside" account.
Getting a Replacement card.
Foreign transactions.
Online Bill Pay
Another great feature of the Bluebird card is that it allows you to be able to pay bills online, just like you would with a traditional bank debit card account.
You can either choose from a list of preloaded merchants and payees or add a payee of your own.
Once you submit your bill for payment, Bluebird will issue the payee a check, which should be received within 5-7 business days.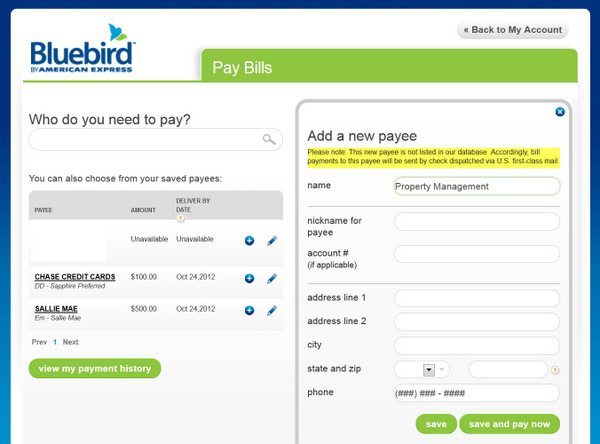 Check Writing Capability
One of the features that come with the Bluebird card that other prepaid cards don't have is the ability to write checks.
You can order a checkbook with your Bluebird card. To get 50 checks, you will pay $19.94 + $5.94 shipping while 100 checks cost $26.94 + $6.94 shipping. For what check looks like, see the image below: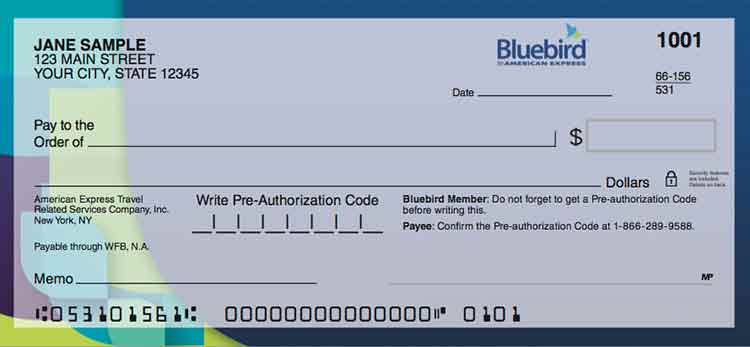 There is no Credit Check
You don't need to submit to a credit check to sign up for the Bluebird Card. As a result, you are able to get almost all the major benefits of a traditional debit card account without the need to worry about whether you are going to be denied because of your credit history.
Cash Withdrawal at ATM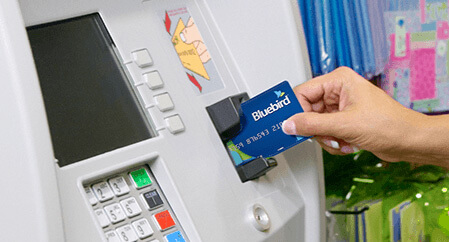 You can withdraw cash at an ATM with your Bluebird card. Withdrawals can be made at any ATM that accepts American Express Cards, including over 25,000 MoneyPass ATM network in the US. There is a daily maximum of $500 or $2,000 per month.
Robust Mobile Application
The Bluebird Mobile Application (Bluebird app) is very convenient and easy to use. You can download it from the Google Play Store if you have an Andriod phone or from the App Store if you have an iPhone.
The app allows you to track and manage your account online, add checks to your account using your camera phone, add funds from your debit card with ease.
You can also pay your bills using the phone app, send and receive money from anyone with a Bluebird account and check your Bluebird account balance.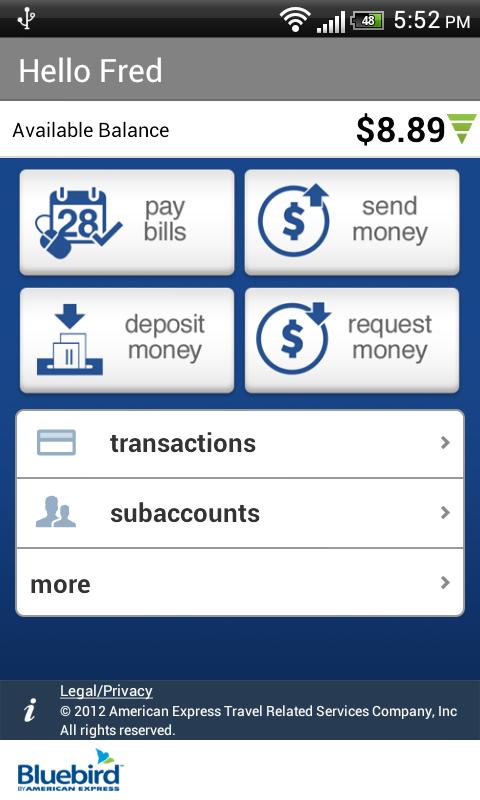 Security
The American Express Bluebird card is Federal Deposit Insurance Corporation (FDIC) insured. This means your money is protected in full by the FDIC.
However, this only applies to funds you deposit onto a permanent card. This is another reason to register your temporary card and sign up for a permanent Bluebird card as soon as possible.
The video below fully explains all the features that come with the Bluebird card.
Conclusion
It is clear from the features we have detailed above that there is a lot packed into the Bluebird card.
At first, it was too good to be true. But then we went ahead and signed up for our own card. That's when we came to the realization (and conclusion) that the Bluebird card wants to be different and it is different from the rest.
We think the Bluebird Prepaid card is the best-prepaid card on the market and Consumer Reports agrees that it is a smart way to pay.
If this post was helpful to you, please share it. If you have any questions about the Bluebird card, ask us in the comments section below.
Comments
comments